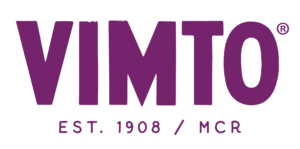 Vimto
Vimto is a nationally renowned brand with a proven licensing pedigree!
It was created in 1908 as a herbal health tonic using a secret recipe combining fruits, herbs and spices from around the world  giving the consumer 'vim' (energy and enthusiasm) and 'vigour' (strength and power).
It has a rich heritage but has kept itself contemporary by adapting to changes in consumer tastes and has developed a versatile product range. You can even enjoy Vimto hot !
The brand character has always remained constant – a fun loving, high-quality, refreshingly different soft drink.
Now Vimto is extending its licensing programme to take both the contemporary brand and its rich history and heritage into the non-food arena. Check out our style guides to see the beautiful artwork.
Style Guide available upon request
Please submit the form to request